Hydraulic Platen Press:
Click Here For Our Latest Hydraulic Press News !!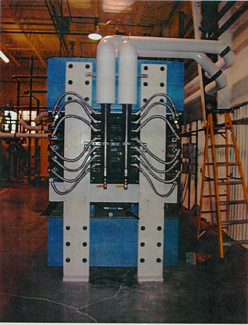 Many of the press designs used in the composite industry were taken from plywood presses. Although these presses can produce many of the composite products they fall short on many technical requirements needed for superior physical performance on a variety of composite parts. SDM addressed many of these factors to produce a better press. These improvements include:
Load distribution over the platens
Temperature uniformity
Temperature gradients as temperature transitions to higher or lower range
Platen stability under heavy pressure.
All of these areas were addressed to optimize processing of difficult resin systems. Pressure uniformity surveys verify bolster rigidity, platen stability and carrier bolster load uniformity.
SDM delivered its first Dual Loader LAMINATOR SERIES™ production press in April 2000. This press, a 5 Ft x 12 Ft, allows loading from the front or sides. With this feature, 5 Ft x 24 Ft panels can be produced with one step. This flexible design opens a wide variety of manufacturing options. Large California freeway signs are currently produced with this equipment.
With our MAX RAMP™ feature new levels of uniformity and temperature rate changes have been incorporated into the LAMINATOR SERIES™ of presses. These presses offer unrivaled temperature uniformity and are capable of temperature rise rates of 20°F / per minute while maintaining excellent platen uniformity. This feature can enhance the physical performance of phenolic faced honeycomb panels, and other resin systems.

Our features deliver:
High quality, high performance honeycomb structures
Eliminates weakened areas, unseen and difficult to detect by inspection. (NDT will NOT show these flaws).
Uniform physical strengths throughout the panel
Dramatically reduces loss rates in panel processing
Typically reduces cycle times for more efficient production
Short gel times can be processed into quality parts.
Platens are heat treated structural steel for stabilization during thermal changes. They are blanchard ground, flat and parallel within 0.004". For the highest quality, the platens are gun drilled in house at SDM. All fittings are forged steel including the valves. Hoses are stainless steel 300 PSI and 600°F Service. The heat transfer pump is also rated at 600°F to assure long life. The hydraulic power pack is an air over oil system that is quiet and efficient. The heater has a fully modulated burner with full controls and high limit safety.
Additionally: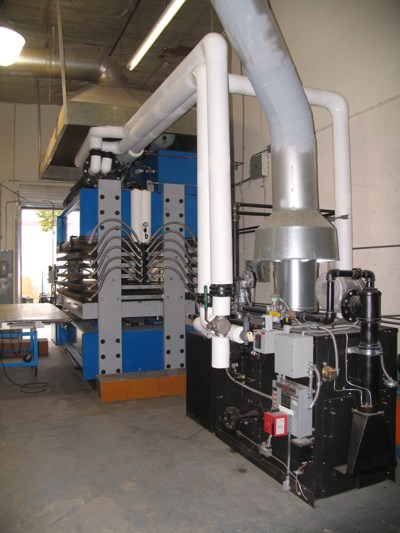 Shown is a Stage I Cooling System
with a SDM 450 Ton Platen Press
The massive upper bolster is designed for minimum deflection under maximum load
The center carrier uniformly distributes the cylinder loads to the platens
The hydraulic cylinders are custom made by Eaton for SDM. Eaton cylinders are the highest quality cylinders in the industry.
SDM/Eaton cylinders feature an extra large rod diameter to reduce leakage and stabilize deck travel. They have 3000 PSI continuous and 5000 PSI intermittent duty rating. The result is a virtually maintenance free press that will produce the highest quality composites from a wide variety of materials.
Super Cooling:

SDM super cooling systems support our laminator series of presses and come in 3 different cooling stages. The exchanger with this system has a service temperature of 40°F to 450°F to handle the processing requirements for the cooling system.
Stage I - Is a self contained unit, typically placed on top of the press. These cooling units are excellent for the process of manufacturing phenolic faced nomex(tm) interior panels and can typically cool a press from 250°F to 200°F in 45 minutes for multiple cycles per day.
Stage II - Improves on the Stage I features by adding a cooling tower allowing even greater capacity and shorter process times.
Stage III - Dual Stage Super Cooler Is the most aggressive cooling system we offer. This Super Cooler adds a specialized refrigeration loop for a dual stage process. Stage III units are capable of cooling our SDM presses from 320°F to 180°F in 45 minutes depending on the design chosen.
Who Relys on SDM Presses?

Nordam Industries, J.D. Lincoln, M.C. Gill, AAR Composites, Teklam, Paneltech, Driessen Aerospace and Advanced Composites are just a few of our clients that have incorporated an SDM Technology Press into their production processes.


Click Here for our IN-STOCK Inventory of LAMINATOR SERIES™ presses available to immediate sale.